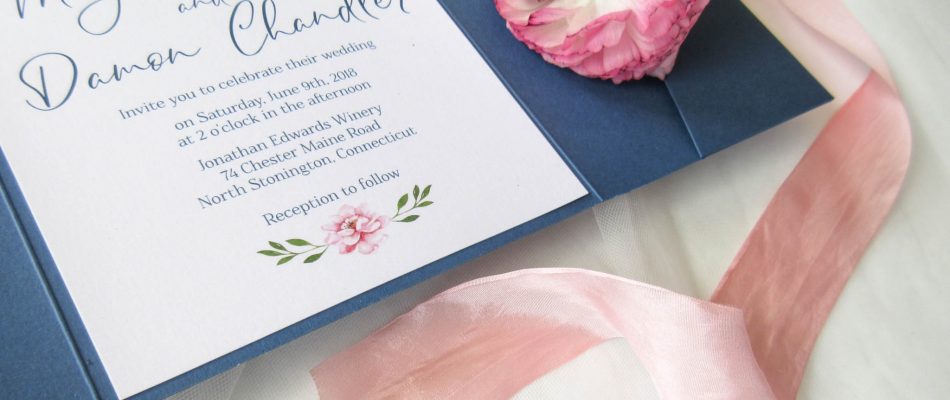 Thinking about doing custom design for your save the dates or wedding invitations? I am going to show you step by step the process of working with me.
Let's Chat!
First, congratulations on your engagement! I can't wait to learn more about your love story and wedding vision! Let's set up a consultation, I have a few ways we can chat.
If you are local to the seacoast NH/ME area let's meet for coffee (or tea!) and we can go over the details as well look at some paper and invitation samples!
Not local? we can jump on a phone call (or video chat) to discuss details.
Rather do it on your own time? I can send you a questionnaire that includes everything I need to give you a free quote and we can do everything through my online portal.
Proposal
Once I hear more about your wants and needs for everything stationery, I'll send over a quote proposal within 3-5 business days. I typically like to send a few package options to get started. They of course can be changed if you decide to add or remove anything.
Retainer and Contract
After you have selected your perfect package a 50% retainer and contract are due. Once those are completed, I will send over a questionnaire for all the info needed to make your invitation suite (wordings, names, venues, and any other details).
Look Book
The first step in the design process! (Yes, it's getting exciting!) I will send over a look book that shows the overall direction and details I have in mind. Will include some overall wedding style inspiration, color palette, rough sketches, scripts, and wordings. Here is where we will work together to make any major changes before I begin any actual artwork.
"I was also able to go through multiple proofing stages to pinpoint every detail. There's nothing bad I can say, my fiancé and I are beyond in love with how our invitations came out and received so many compliments!" -Alexis
Design Proofs
This is my favorite part; our vision starts to come to life! You'll receive 3 rounds of proofs where you'll be able to make changes to layout, colors, slight design changes to make it perfect! In the first round, I typically like to include a few different options for colors or perhaps wording if you wanted to see a few options.
Final Proof
After the whole suite has been approved, I'll be sending over the final proof which has a very thorough checklist to confirm all details such as all spellings, dates, addresses, etc. This is also where you will give the final stamp of approval and submit your remaining balance so all your pieces can get ready to print.
Printing and Assembly
Everything's coming together! I'll start printing and ordering any add-ons such as silk ribbons or wax seal waxes. Assembly can take anywhere from 4-6 weeks depending on complexity. All items are professionally printed and hand-assembled so everything is perfect for your guests.
Delivery
Can't believe they are finished! There are 3 options you can choose from for delivery. I can package up all the pieces and send them to you to stuff and mail. Local? We can set up a time for you to pick them up or me to drop them off. Or I can handle the stuffing and mail to guests for you. How's that for a stress reliever? I'll also mail any extras to you free of charge.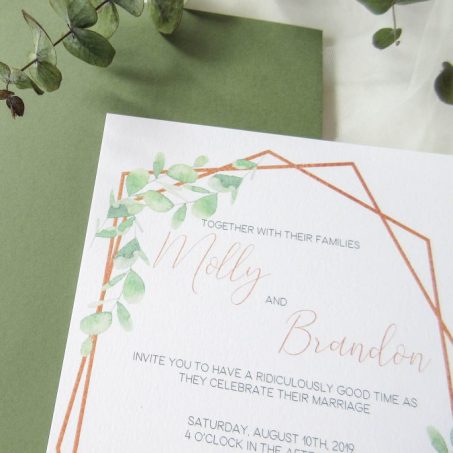 Digital Printing | Flat Printing
Digital Printing ($) is included in all my packages, it is flat printing where the artwork is printed directly onto the paper. Color options are endless, perfect for those detailed artworks or watercolors. Can also combine digital printing with foil, letterpress, or thermography.
White Ink Printing
White ink ($$) is a printing method of white ink printed on color paper or vellum. Can do the whole suite or just a single card in the suite.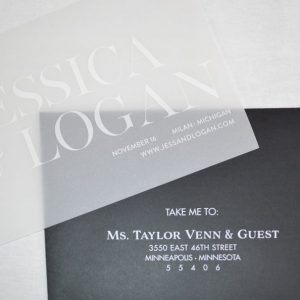 Thermography
Thermography ($$) is a raised print that comes in a range of colors to select from and I can do up to 2 colors per card. This can be combined with digital or foil printing for added elements.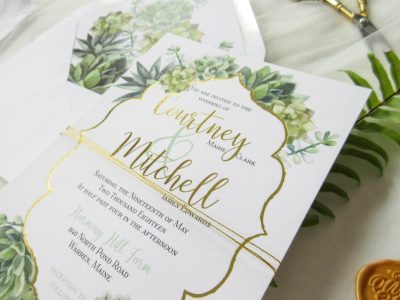 Foil Printing
Foil Printing ($$) is a metallic or matte foil that is pressed into the paper. Can do all the printing in foil or combine it with digital, letterpress, or thermography to add a little glam. Foil comes in a range of colors to select from.
Letterpress
Letterpress Printing ($$$) is the most expensive of the printing methods but is one of the first printing techniques. The words or designs are pressed into the paper with a roller and ink on a plate creating an impression into the paper. This can be combined with digital or foil printing to add details to the design.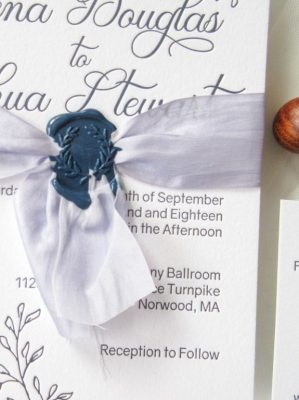 Ready to work with me?
Let's schedule a call or request a quote