I'm sure that you have heard the phrase "Don't believe everything you hear"… this rings true in most aspects of life, including wedding stationery! So, let's talk about some common wedding stationery myths.
1. Wedding Invitations Get thrown out
The first myth I'd like to address is a common one that I hear a lot: wedding invitations are usually thrown away. This myth breaks my heart, but the good news is…IT'S FALSE! Wedding invitations are one of the few tangible items that are left when the wedding day is over. When the food is gone (I mean it does end up in the toilet!), the flowers have wilted, and the memories start to fade; invitations are still around. Invitations make the perfect keepsake for you and your family and friends.
2. Save the dates are required
Myth number two is a common one; a save the date is a required part of your wedding stationery suite. Nope! Save the dates can be super fun and personal addition to your stationery suite but they are not a must. A few factors go into choosing whether to use or skip save the dates.
The opportunity to show off your engagement photos is one perk to sending out save the dates. This gives your guests a personal look into your relationship and can be a fun way to "introduce" your significant other to some who have not yet met them.
Timing is another factor to consider. Is your wedding a year or two away? If so, save the dates are the perfect reminders for your guests and a great way to keep your upcoming special day fresh in their minds. Are you having a short engagement? Six months or less? Skip the save the dates and go straight to invitations. Still on the fence of save the dates? They are not 100% required so if you are on the fence opt out of save the dates and put that money towards upgrading your invitations.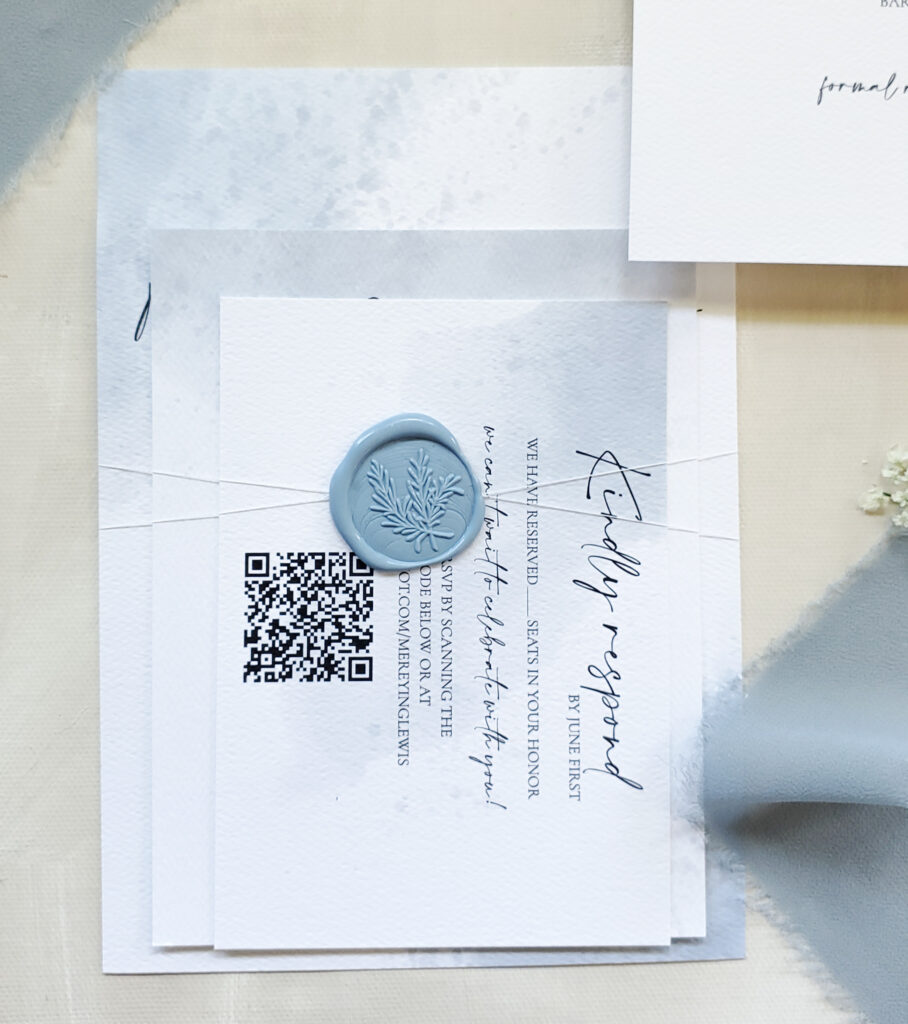 3. Must have a mail-in rsvp card
Needing to include a physical rsvp card to be mailed back to you is not really necessary; it's just traditional! Skipping the return rsvp envelope is a great way to save money and stay within your budget. Avoiding the extra price of postage that is added to each rsvp envelope saves you a ton of money; especially since the price of stamps is skyrocketing lately. RSVP cards are more common in a wedding suite if your wedding is more on the formal side. If you feel it will make planning easier to have your guests rsvp online, skip tradition and have details on a single rsvp card or the detail card on how to respond online.
4. Invitations must be formal
Myth number four is that your wedding invitations need to be formal. Guess what? Your wedding invitations should reflect YOU and the vibe of your wedding. Do not stress over something being fancy or formal if that isn't the vision you have for your wedding day. Do what makes you happy; not what you feel is expected or "normal". Casual or semi-casual invitations are just as special and just as beautiful as something formal.
5. the
Invitation design can by anything
If you've read this far, you've made it to the last myth; wedding invites do not need to correlate to your overall wedding style. This is a BIG mistake. Your wedding stationery should always reflect the style of your wedding. Invitations give your guests a glimpse of what to expect for your wedding day. Incorporating your wedding style into your invitations helps to prepare guests for what to wear, the formality, and what to expect the day will look like.
While a lot of the myths are based on tradition, I am happy to break those traditional rules with you to create some unique wedding invitations and stationery for you.
Amour Daydream Studio
Stunning custom invitations for your unique love story
Berwick, Maine | Serves couples worldwide
quick links