3 Reasons Why Wedding Invitations Are Important
There are a lot of things to check off on your To-Do-List to plan the perfect wedding. Typically the first thing you'll check off is the wedding venue, the photographer, and your gorgeous wedding gown. One of the most important aspects of your wedding planning is usually left for last and forgotten until the very end, your wedding invitations.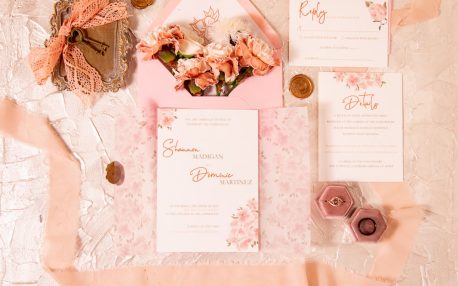 "It's the first impression of your gorgeous dream day."

Wedding Invitations Set the Tone
Wedding invitations are the first glimpse your guests will see into your big day. You have sent out your beautiful invitations all packaged up. Your guests are at home checking their mailbox and they get excited to get a beautiful envelope in the mail! They open it up and it's your invitation. It's the first impression of your gorgeous dream day. It sets the tone for what they should expect to see and feel on your special day. They should reflect you as a couple as well as the style and theme of the day. If you're having this gorgeous garden wedding you would want to make sure you portray that to your guests. I can see it now; the beautiful invitation with watercolor floral with a vellum wrap finished with a custom monogram wax seal. Let's excite your guests and give them a little sneak peek into your day!

They Have All the Deets!
This one is an obvious one, your guests won't be able to won't show up without an invitation. They have all the information needed for your guests to get there and help celebrate your love! They include the most important information such as the location of the venue and the time that they need to be there so they can arrive with plenty of time before you start walking down that aisle! Is the reception in a different place they need to know about?
If your guests are traveling from afar give them a list of hotels they could stay at, so they don't have to spend time researching! You can even have a custom map to show all of the attractions around the area or maybe even a memento such as the location of your first date! Let's make sure they have everything they need so they can celebrate with you!

They are a Keepsake for You and Your Family
You might have heard the rumor that invitations are just paper and get thrown out. While invitations are made from paper, most of them anyway, they are kept as a keepsake to remember this special day. I still have invitations from family and friends from years ago. While you spend so much money on your wedding, you should have something to hold onto, to remember the big day.
Yes, you'll have all your photos but the food will be eaten, the cake will be enjoyed that one time, flowers will wilt, and the music will be a far memory. Invitations can be preserved, you can even put it in a shadow box, a storage box, or frame it and hang it on to your wall alongside your wedding portrait. Whatever you prefer, but I can guarantee if you save it, you will think back and bring all your special memories back of that dream day.
As you can see invitations are so important and they should be one of your top priorities while wedding planning. To create these perfect wedding invitations to reflect your wedding day, set the tone and excitement for your guests you need the time to create something that beautiful. Make sure you put invitations to the top of your wedding to-do list so you have plenty of time to research and have some ideas of what you really want. Let me take the stress off your plate and check off that to-do by working with me to create a really gorgeous invitation suite that will set the tone for your guests, cherish for a lifetime and future generations
Request a FREE consultation or fill out our online quote request form to get started on your wedding invitations today.