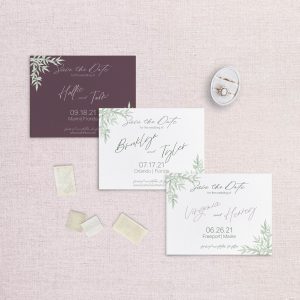 Are Save the Dates Necessary?
I'm going to be honest here, this may be a shock to you coming from a stationery designer. Not everyone needs to have save the dates. *gasp* Invitations are the most important aspect of your paper goods. Invitations give all the details that your guests need to attend your wedding. Although, I am going to tell you three reasons why you need to consider ordering save the dates.
Send Save the Dates if your guests will be traveling
If you have a lot of guests traveling from out of town whether they are driving for a few hours or booking a plane ticket to get there for the whole weekend. Save the dates are necessary to give them time to plan their travel arrangements in advance. Giving them a heads up when the wedding will happen gives your guest plenty of time to start looking into purchasing plane tickets or taking time off work if needed. Also, this helps guests figure out their itinerary so they have enough time to plan. Invitations are sent two to three months before the wedding which may be too late to purchase a plane ticket if need be, but perfect timing if you are having a local wedding or if you have already sent out those save the dates!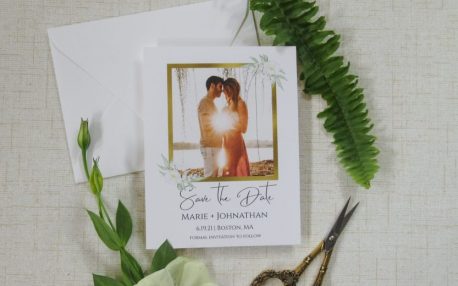 Send Save the Dates if you want an excuse to use your engagement photos
You just had a beautiful engagement photoshoot and you want to share your photos with your guests and maybe even the world. What a perfect way to showcase your love to all your friends and family that are invited to celebrate your big day by sending out photo save the dates! Not to mention, it's the perfect excuse to have a photoshoot and use some of those photos. I can even do a magnet save the dates so they can pop it right onto their refrigerator so they can see your cute engagement photos reminding them of your big day.
Send Save the Dates if you're having it during a holiday weekend
Holiday weekends are big for weddings, you get an extra day to celebrate or relax when it's over. But it's also big for family vacations! Even small holiday's like Columbus day as it falls on a Monday in October. Keep this in mind when your planning, if you are doing it on a holiday or busy summer weekend save the dates are necessary to send to your guests. You don't want to bum out your favorite aunt when she gets your invitation in the mail a couple of months before and she realizes it's the weekend of her first vacation in years. Send out those save the dates so your loved ones are there to celebrate with you.
I see the question in wedding planning groups "Are save the dates necessary? Do I really need them?" and I hope this post has answered these questions for you. Although, if these three reasons didn't convenience you, then I recommend putting that extra money into your beautiful invitation suite so you can add all those extra details. Details such as wax seals, liners and other finishing touches that you want to add to your suite that you may not be able to afford if you choose to send out save the dates.
The main takeaway is, I save the date are necessary to really give your guests plenty of time to make arrangements. Making sure that everyone you truly want to be at your wedding will actually be there and have no excuses like "oh I have to work" or "I didn't take time off" etc. If you are having a hard time finding a save the date you love and that is not quite YOU. I would love to create something one of a kind just for you! Check out my pre-designed saved the dates which designs can be mixed and matched as well as customized with your own wordings and colors!